Overview
This horse camp is nestled at the confluence of Willow Creek and Palmer Creek near the Black Elk Wilderness area of the Black Hills National Forest.
From this campground, hikers and horseback riders can access a network of trails into the backcountry. The campground is within the Norbeck Wildlife Preserve.
Recently renovated by Forest Service and Backcountry Horsemen of America, Willow Creek Campground is a good choice for horse campers.
Recreation
Hikers and horseback riders can access the trailhead for the Willow Creek Loop, which provides scenic views of the Black Elk Wilderness. There is also easy access to the Lost Cabin Trail, which offers many views of Black Elk Peak on its descent.
Willow Creek Horse Camp provides a good starting point for a day-long hike or horseback ride to Black Elk Peak and Harney Lookout Tower. Both the Willow Creek Loop and the Lost Cabin Trail connect with the Black Elk Peak Trail.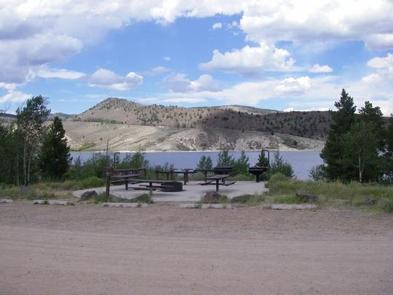 Facilities
Each site has a picnic table and campfire ring. Corrals are provided for horses in sites 4 through 9. Each corral accomodates up to 6 horses. A horse waste container is located in the campground and we request that campers remove horse waste from the corrals on departure.
Camping without horses? You may reserve sites 1 through 3 which do not allow horses or choose a site that does accommodate horses.
Vault toilets are available. Drinking Water may NOT be available.
Natural Features
The Black Hills in western South Dakota and northeastern Wyoming feature a varied landscape of rugged rock formations, canyons and gulches, open grassland parks, tumbling streams and deep blue lakes.
The Black Elk Wilderness is its only wilderness area, and it sits in the center of Norbeck Wildlife Preserve.
Norbeck is home to a variety of wildlife, including elk, deer, bighorn sheep and mountain goats. Its most prominent landmark is Black Elk Peak, which, at 7,242 feet, is the highest  point in the country east of the Rockies.
Contact
For facility specific information, please call (605) 574-4402.
Nearby Attractions Mt. Rushmore
Named for South Dakota's former governor and U.S. Senator, the Peter Norbeck Scenic Byway offers 70 miles of outstanding sights including Mount Rushmore, which is only 6 miles from the camp, The Needles Highway, Iron Mountain Road and Custer State Park. The Norbeck Overlook provides views of Black Elk Peak and Mount Rushmore.
Charges & Cancellations
No refunds will be given for weather or related events.
From Hill City, South Dakota, take US 16/385 south for 7 miles. Go east on State Hwy 244. The campground is located across from the Mt. Rushmore KOA.