Burkburnett, Texas, has a Journey KOA that is very family friendly no wonder this is a popular stop on the way to Yellowstone National Park and other destinations. Clean deluxe cabins and star-filled clear night skies are the perfect combination for family memories.
Where is Burkburnett?
The Burkburnett/Witchita Falls KOA is located in Burkburnett, Texas, a small town 5 miles north of Wichita Falls. These towns are in Northern Central Texas near the border of Oklahoma. It is home to Sheppard Air Force Base and Midwestern State University.
My son and I arrived at the Burkburnett KOA campgrounds in late August to get away for an evening and hangout in Wichita Falls, Texas, a city I lived in many years as a young airmen at Sheppard Air Force Base.
Burkburnett KOA amenites
The summers are scorching hot with temperatures reaching the 100 degree mark consecutive and so often that their town's annual bike ride is dubbed "Hotter than Hell" 100 mile bike ride. If visiting during this time I recommend your visit include many stops at the pool, which this KOA has a great one!
Burkburnett RV parks
This RV park at the Burkburnett KOA has 46 RV sites. The dump station is centrally located. According to several reviews RV sites are quiet and level. Shade trees and a park like setting are bringing back repeat customers.
What is there to do in Burkburnett Texas?
Burkburnett Texas, is very close to the Oklahoma border where two casinos are located. The Kiowa Casino and Hotel and Comanche Red River Hotel Casino are within 5 miles of Burkburnett.
If gambling isn't your idea of fun, Burkburnett Texas has a waterpark called Boomtown Bay Family Aquatic Center.
Burkburnett places to eat
Burkburnett has a variety of restaurants ranging from Italian, Mexican, barbeque and American food. Burkburnett has chain restaurants like McDonald's and Taco Bell but it also has some local favorites.
La Familia Mexican Restaurant is a family-owned restaurant that serves breakfast lunch and dinner. According to the reviews, the service is great and the food is delicious.
The Feed Lot offers home cooking southern favorites like chicken fried steak and catfish. This family owned local restaurant is a favorite among the locals.
Lite Pan is a Chinese food restaurant that offers staples like beef and broccoli and sesame chicken. Takeout is a popular option at this restaurant.
The pool is medium in size, about half the length of an Olympic size pool. It is saltwater but barely salty just enough to be clear and a nice change of pace to the chlorinated pools. This pool had a water slide attached, my son loved it, but I was a chicken. We had the pool all to ourselves and we swam most of the day after checking in right after 3, the earliest allowable check in time for the cabins.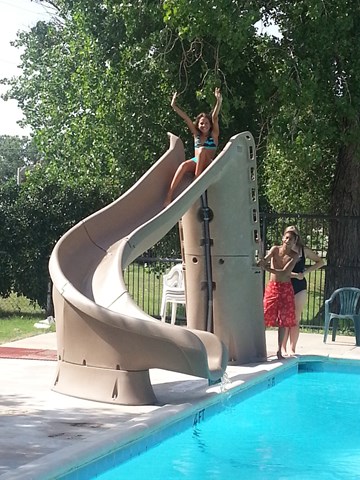 We rented a deluxe cabin, as I do when any of the family comes with me. Unlike the no-frills camping cabin I stayed in east Texas, this one was unique with a loft area for small children that overlook the living room. It had two small twin mattresses with no bedding that were spaced out well.
Deluxe KOA cabin rentals
This cabin was well stocked for easy living with a full refrigerator and a stove-top. It also had a television with cable and a connection for a fire-stick. The living room is spacious and has a recliner and a futon for additional bedding. It would comfortably sleep 5 people with no problem. For the two of us it was huge!
After swimming we decided to take a trip around town and see what food options were out there. The KOA in Burkburnett, Texas is about 10 miles from the town of Wichita Falls so it was pretty easy to get something quickly. We ended up at an awesome steakhouse in the middle of downtown Wichita Falls at a place called McBride's Steakhouse. They've been serving up great meals since 1975 so i knew we were in good hands with this local treasure.
After filling up on steaks and potatoes, we decided to drive around a bit and literally stumbled upon an old school arcade by the name of Maniac's Mansion. It was a blast from the past and after beating him at a little Mortal Kombat and showing off my Pac-Man skills we headed back to the KOA campgrounds.
My son was exhausted from swimming and running around so he turned in for the night, while I went for one more dip in the pool which was open 24 hours. I was alone in the pool, so I spent the next hour floating and enjoying the country stars which were shining bright that night. After a little while in the pool I headed back to the cabin and turned in for the evening. The queen size bed was super comfortable and I fell asleep fast.
In the morning I enjoyed a cup of coffee while my son slept soundly in the loft area. I cooked up some eggs and bacon with an appreciation for the full sized kitchen.
After he woke we ate and went back to the pool for a quick swim before checking out. This trip was full of great food , a blast from the arcade past and alot of great conversations. What else could make family kamping better than this?
Just as the KOA reviews say, the K9 dog park was removed. So if you travel with your four-legged friends, you will have to keep them on a leash.